A Merry Christmas, Bob Cratchit!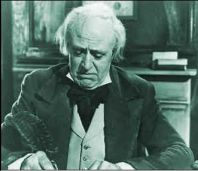 We here at Albion Chronicles will not offer an apology for this. The Alastair Sim version of Scrooge (A Christmas Carol) is over and above the best version of them all. First class festive fare, as the Britmovie Website review of this film calls it. Shot using taking full advantage of light and dark shades, to give it its full dramatic and ghoulish effect, the familiar tale tells of the miserly Scrooge's transformation after visitations from the Spirits of Christmases Past, Present and Yet To Come. Check your cynicism in at the door and you'll find a supporting cast of well-loved characters, including Bob Cratchit (an excellent Mervyn Johns) and Tiny Tim, and with a smattering of carols all adding to the atmosphere of good cheer. The success of this interpretation, however, largely rests on the shoulders (and in the wonderfully doleful eyes) of Alastair Sim, whose wry performance gives us a fully three-dimensional Scrooge: a miserly yet pitiful character who extends beyond the normal caricature. When told that, "At this time of year, it is more than usually desirable that we should make some slight provision for the poor and destitute," Sim's ironic delivery of, "Why?" manages to invest humour into the most simple of one-liners, and sums up all that is great about his performance.
Scrooge - 1951 | 86 mins | Comedy, Drama | B&W
Director:
Brian Desmond Hurst.
Producer: Brian Desmond Hurst.
Script: Noel Langley. (from the Charles Dickens novel
A Christmas Carol)
Cinematography:
C.M. Pennington-Richards
.
Editing:
Clive Donner
.
Art Direction: Ralph W. Brinton.
Costume Design: Doris Lee and Constance Da Finna.
Make-up Department: Eric Carter and Betty Lee.
Sound Department: W.H. Lindop.
Original Music: Richard Addinsell.
Music Direction:
Muir Mathieson
.