The final concert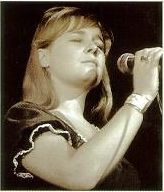 recorded at Sandy's last concert at the Royalty Theatre on

Sunday 27th November 1977.

This is the biggest band that Sandy ever fronted, consisting of :
Dave Mattacks: drums;
Pat Donaldson: bass and backing vocals;
Trevor Lucas: acoustic guitar and backing vocals;
Phil Palmer and Rob Hendry: lead guitars;
Pete Wilshire: pedal steel;
and Sandy herself on piano and acoustic guitar.

Due to technical problems on the guitar and backing vocals tracks, most of the guitars (except for track 13) were rerecorded by Jerry Donahue and backing vocals were sung by Simon Nicol and Chris Leslie, of

Fairport Convention

the actual song order of the concert

Solo

The North Star Grassman

Nothing More

Gold Dust

I'm a Dreamer

John the Gun

The Sea

It'll Take a Long Time

Tomorrow Is a Long Time

The Lady

Wretched Wilbur

For Shame of Doing Wrong

Stranger to Himself

Take Me Away

One More Chance

Who Knows Where the Time Goes?

No More Sad Refrains

thanks go to Reinhard Zierke, John Penhallow,

Clinton Heylin and Brent W Burhans for this.