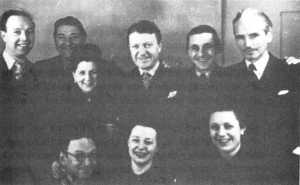 From left: Clarence Wright, Fred Yule, Dorothy Summers,
Sydney Keith, Tommy Handley, Paula Green,Jack Train,
Kay Cavendish, Dino Galvani.
"It's That Man Again", otherwise known as ITMA, was launched in 1939, when the BBC decided that what its radio broadcast needed was a weekly comedy show. The Liverpudlian comedian, Tommy Handley was chosen and with the help of Ted Kavanagh, they created what was to become one of the most popular radio series of the 1940s.
The show was named after the phrase newspapers commonly used to describe Hitler; "It's that man again!". Like all other war abbreviations, RAF, ARP, the programme title was turned into initials and named ITMA. ITMA was originally set in a pirate, commercial radio station, Tommy was assisted by Cecilia Eddy, playing his secretary Cilly and Eric Egan, as a mad Russian inventor. Four episodes were broadcast over a trial period, yet were not the huge success that they were destined to become.
Not content with just a namesake, Hitler was to aid the show's future once again, as the outbreak of war saw the return of ITMA. A pirate radio station was no longer considered an appropriate setting, and instead was replaced with the Office of Twerps, where Tommy was to become Minister of Aggravation and Mysteries and a brand new supporting cast was introduced.
Actor

Character

Vera Lennox

Dotty the secretary

Maurice Denham

Mrs Tickle the office char
Vodkin the Russian inventor

Jack Train

Funf
Other stars who appeared on ITMA over the years include;
Sam Costa, Carleton Hobbs, Molly Wier, Deryck Guyler
Hattie Jacques,Clarence Wright, Fred Yule, Dorothy Summers, Sydney Keith, Paula Green, Kay Cavendish, Dino Galvani, Lind Joyce, Diana Morrison, Joan Harben, Paula Green, Bill Stephens, Mary O' Farrell, Hugh Morton, Jean Capra
From June 1941, the show was renamed 'It's That Sand Again', and was set at a seedy seaside resort, named Foaming at the Mouth. This was thought to be a welcome escape from the subject of war and introduced some memorable characters, including Deepend Dan the Diver, inspired by a man who Tommy Handley had once seen diving off New Brighton Pier.
The seaside setting ran for four series and the show reverted to its original name. In April 1941, the cast were invited to Windsor Castle to perform a special show in honour of Princess Elizabeth's 16th Birthday.
Although a stage show and a film of ITMA was made, and it enjoyed some success, the radio show still remained by far the most popular medium in which to enjoy this brand of humour.

In 1942, a nondescript war factory was introduced to Foaming at the Mouth, where the audience first met Colonel Humphrey Chinstrap and his famous catchphrase 'I don't mind if I do'. In further reincarnations, the factory became a spa, holiday camp and hotel.
Post war ITMA, saw a new cast and a whole variety of new settings; the South Sea Island of Tomtopia, Castle Weehouse and the Office of Industrial and Scientific Affairs, before Tommy Handley became a permanent guest in Henry Hall, a tramp's guesthouse.
On the 6th January 1949, the final ITMA was broadcast. Tommy Handley was to die just three days later of a brain haemorrhage and with him died one of the most popular radio shows of the forties. For a 'mere' comedian , two memorial services were held, one at St Paul's cathdral, London and the other in his home city of Liverpool., at that city's cathedral. Thousands of people lined the six mile route of his funeral cortege, for this truly was the measure of the man who kept Britain laughing in its darkest hours.
In a special tribute, 'Mirror of the Month' demonstrated some of the ITMA sound effects. The item closed with the poignant suggestion; "Shall we close the door for the last time." They did.
Tommy Handley and Ted Kavanagh wrote the scripts for this very popular wartime programme together with producer Francis Worsley.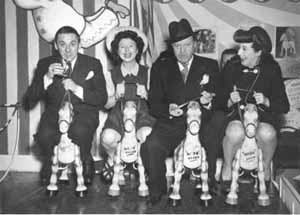 Jack Train, Molly Weir, Tommy Handley and Lind Joyce