One Fine Blues Album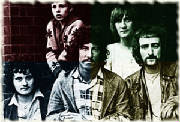 Fleetwood Mac was founded in mid-1967 in London, England by two Blues-Rock musicians: guitarist Peter Green and drummer Mick Fleetwood; the pair enlisted second guitarist Jeremy Spencer and Bob Brunning on bass who was soon replaced by John McVie, the band's live shows caused a buzz, in Britain, which eventually lead to a record deal with Blue Horizon Records.
The group's eponymous debut, which arrived in early 1968, crashed into the top 5 of the Official U.K. Albums chart; that same year the band added a horn section and pianist Christine Perfect, releasing "Mr. Wonderful", but the album failed to match the commercial success of their debut disc; after the recording sessions for their second LP, the third guitarist Danny Kirwan joined the group.
The following year, in January, Fleetwood Mac, released "English Rose" which included two British hit singles including the #2 "Albatross" and "Black Magic Woman"; in October appeared "Then Play On", which reached the #109 in the U.S. Pop Albums chart thanks to their first American charting single, "Oh Well", the track also enjoyed success in the U.K. Pop chart reaching the #2 spot.
Peter Green left the band in May of 1970
Peter Green - guitar/vocals
John McVie - bass
Mick Fleetwood - drums
Jeremy Spencer - guitar/slide-guitar/vocals
Bob Brunning - bass
Produced by Mike Vernon
Bob Brunning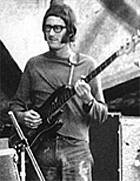 Although Mick Fleetwood and John McVie are generally labeled as 'original founding members' of Fleetwood Mac, Bob Brunning was actually the original bass player in the group before McVie. Hired by Peter Green, knowing full well he was only temporary until they won John McVie over, Brunning appeared with the group in their public debut at the Windsor Jazz and Blues Festival in August, 1967. Brunning can be heard on a handful of early Fleetwood Mac songs such as 'I Believe My Time Ain't Long,' 'Rambling Pony No. 2,' and 'Long Grey Mare.' After leaving Fleetwood Mac, he remained friendly with the members of the band; he went on to form the Brunning Sunflower Blues Band, and also later became a teacher at a London School. Brunning is the author of Fleetwood Mac: Behind the Masks, Blues: The British Connection, and Fleetwood Mac: The First 30 Years.



Blue Horizon Records 7-73200 1968

side 1.

My Heart Beat Like A Hammer

3:31

Merry Go Round

4:19

Long Grey Mare

2:12

Hellhound On My Trail

2:04

Shake Your Moneymaker

2:52

Looking For Somebody

2:49

side 2.

No Place To Go

3:20

My Baby's Good To Me

2:49

I Loved Another Woman

2:54

Cold Black Night

3:15

The World Keep On Turning

2:27

Got To Move

3:18