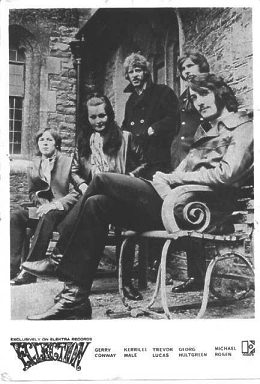 .
Eclection
Eclection
(CD, US, October 2001)
This, the sole, little-known album by England-based Eclection, recently reissued, was definitely a wonderful find. I've just begun exploring British folk-rock, and although I'm a novice in this, I still think anyone who likes the genre should make this a part of his or her collection, it's that good. The members of Eclection literally hailed from the four corners of the earth. Australian bassist Trevor Lucas and British drummer Gerry Conway would associate with Fairport Convention in the future. Norweigan guitarist Georg Hultgreen(Hultgren/Kajanus) composed most of the songs, along with Canadian lead singer, guitarist and songwriter Michael Rosen. Kerrilee Male, from Australia, rounded out the lineup as the group's second lead singer. The group was very often compared to Fairport Convention for their sound AND west-coast California bands such as the Mamas & the Papas for the vocal harmonies. Fairport, however had more of a rock sound, and Eclection possessed four talented singers (all but Conway sang), all of whom were far more dramatic and emotional in their delivery.
The music, while often melancholy in tone, is striking nonetheless. The band often mixed electric and acoustic instruments together, while at the same time several songs also feature orchestration by Phil Dennys. This gives the material an almost classical feel, and definitely highlights the material rather than burying the basic folk-rock sound. This is particulary effective on "In Her Mind" and "Still I Can See." "Morning of Yesterday," sung by Hultgreen, is a rather upbeat and almost jazzy tune. "St. Georg & the Dragon" is almost chilling, where Male's vocals wail in the distance. "Confusion" is an interesting album closer, almost hopeful in tone; the stop-start effect of the song builds up to an almost classical crescendo toward the middle and end, and Male's almost angelic vocals contrast well. In the end, her vocals are the most memorable part of this album, and together with Michael Rosen's sonorous delivery, both singers compliment each other. The only real detriment to the album is the fact that Male is not out in front as often as I would have liked, although one might argue that her purpose was to add to the overall sound rather than step forward....this is probably the greatest difference when critics compare the band to Fairport Convention.
not successful at the time but of vast importance in retrospect could it be in the same category as "Sweetheart of the Rodeo" and "For Ever Changes"?
Kerrilee Male: vocals
Michael Rosen: vocals, 6-string electric and
acoustic guitars, trumpet
Georg Hultgreen [Kajanus]: vocals, 12-string
Produced by Ossie Byrne
Orchestration arrangements by Phil Dennis
Audio engineering by Damon Lyon-Shaw
Recorded at IBC Studios, London
U.S. Production Supervisor/Jac Holzman
Cover photo/Joel Brodsky
Inside photo & Art Direction/William S. Harvey
Mannequin clothes courtesy of The Different Drummer
CD reissue credits:
Executive Producer: Gordon Anderson
Product Development: Soundies
Thanks to Mark Pinkus, Dave Kapp and Mason Williams
Liner notes by Richie Unterberger © 2001 by Richie Unterberger.All rights reserved.
© 2001 Collectors' Choice Music Holdings, Inc. (P)2001 All selections produced under license from Elektra Entertainment Group. Manufactured by Rhino Entertainment Company.